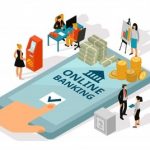 This would be a terrible time to be a laggard in offering digital
services to customers. This American Banker article
suggests that online banks are winning new customers due to coronavirus
concerns.
If true, it suggests that existing banks have failed to
implement a full digital stack, which seems very odd in this day and age. Both
my small bank and large credit union have everything I need to bank online while
staying home, but this is surely more difficult for the unbanked and
underserved:
"Online and mobile banking has grown increasingly popular, lessening the traditional role of branches. The industry's total branch count declined by more than 1,500 over the 12 months that ended Feb. 29, according to data compiled by S&P Global Market Intelligence.

Early signs indicate the pandemic could hasten the digital banking trend.

Bankers, generally, are reporting that digital usage is rising alongside the proliferation of the virus. In some cases, it is surging.

"Digital adoption is off the charts," said Todd Nagel, president and CEO of the $1.4 billion-asset IncredibleBank in Wausau, Wis.

IncredibleBank, which has a regional branch network and a national digital bank, is seeing a wave of deposit account openings as people pull money out of the stock market. Nagel said the digital operation is accounting for more than a third of account openings, up from 10% a year earlier.

IncredibleBank recently closed the lobbies of its 15 branches, maintaining drive-through access but encouraging clients to use its mobile and online services. They have responded in droves, Nagel said.

Mobile application usage is climbing so quickly this month that it is difficult to track the precise growth rate. "It's absolutely skyrocketed in the past week alone," Nagel said, as clients use the app for everything from loan payments to paying bills."
Overview by Tim Sloane, VP, Payments Innovation at
Mercator Advisory Group
The post Unsurprisingly, Coronavirus Has Increased Usage and Need for Digital Banking Services appeared first on PaymentsJournal.