As an avid Apple Pay user, I read with interest a recent Quartz article on the worldwide growth of this digital wallet. According to the article, Apple Pay is on pace to account for 10% of all global card transactions; Apple Pay currently accounts for 5% of global card transactions and that number will double by 2025.
While it may not seem like Apple Pay will monopolize card
transactions any time soon, 5% is a big number considering the number of
players in the space and many ways to pay. In the last three months of 2019,
Apple's service unit Apple Pay created $12.7 billion in revenue, which is a 17%
increase from the same period a year earlier.
How does Apple make money from Apple Pay card transactions?
Apple makes its money by taking a little piece of the transaction fee applied
to every card transaction. Given the
number of card transactions that happen every day, this "little" piece they
take clearly adds up to some real revenue for Apple.
Our PaymentsInsights
data shows growth of the use of universal wallets like Apple Pay and Chase Pay
as more consumers get used to the idea of a mobile wallet and, equally
important, the increase in merchant acceptance.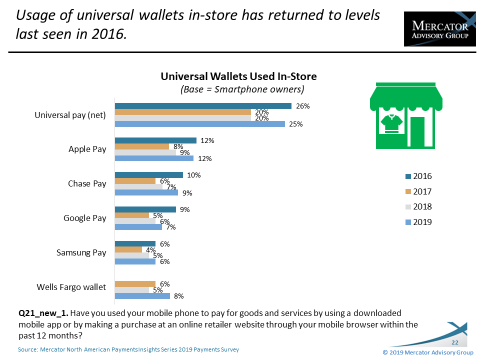 As the article points out, Apple has clear advantages over
some of its universal wallet competitors:
There's no shortage of slick, feature-rich payment apps out there, but Apple Pay has several advantages. The app is pre-installed on iPhones, and Apple has tight control over the device's NFC technology that's used for contactless payments. That's why Apple Pay is the only iPhone mobile wallet that can make NFC transactions. (Alipay and WeChat Pay, the enormously popular Chinese payment apps, use QR-codes. The optical codes are read through a phone's camera and aren't controlled by Apple.)
Alas, there are some potential hiccups along the way to
payments domination. First of all, Android
phones are the dominant market leader globally – and I don't think you'll see
Apple Pay on an Android phone any time soon, for obvious reasons.
Further, the article does highlight some of the regulatory
issues that Apple is up against in the EU as regulators have shown concerns
about Apple playing nice with the competition. We will have to see where that
all nets out.
Digital universal wallets are here to stay. What was once a
nice to have feature is starting to become mainstream. Some will argue that
it's about time since Apple Pay launched in 2014.
Card payments have a lot of moving parts. In order to get
transactions to run through a phone, the system needs help from the payment
networks, issuing and acquiring banks, POS manufacturers and, most importantly,
consumers. Given all this, it's a wonder
we've gotten this far.
Overview by Peter
Reville, Director, Primary Research
Services at Mercator Advisory Group
The post Apple Pay Growth Hints at the Future of Digital Wallets appeared first on PaymentsJournal.