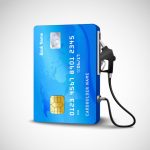 This October, fuel pump owners who have not upgraded the
payment capabilities in their pumps to accept EMV chip cards will bear the cost
of fraud losses. Currently financial institutions are absorbing most of
those expenses.
While most merchants have been upgrading terminals to accept chip for the last five years, fuel pump operator have been dragging their feet. How bad is it?  A Fortune article on the topic doesn't provide a full picture of the problem, but it does state that 70% of convenience store owners in a survey conducted by Conexxus are unprepared to meet the deadline, despite Mastercard's and Visa's attempt to give more time to this group of merchants by moving the liability shift date out once already.
The article contends we should not be critical of the
convenience store owners, that really it's the industry at large that is to
blame:
Beginning in October, station operators that haven't modernized their pumps will face liability for any card fraud that happens at their businesses. The industry is "massively under-prepared," said Joshua Smith, chief executive officer of Gas Pos, which sells point-of-sale systems.

"There's not enough technicians to do the installments," Smith said. "There's not enough inventory. Even if there were enough contractors, there's not enough dispensers available."

Most retailers began to upgrade payment systems in 2015—the first of a series of deadlines set by Visa and Mastercard as the U.S. worked to catch up with nations in Europe and Asia that had long adopted the more-secure chip cards. For fuel retailers, the deadline was ultimately pushed back five years as the industry faced costs of more than $3.9 billion to do the work.

"The payment standard-setting process needs to be more open," said Anna Ready Blom, director of government relations for NACS, a trade association for the convenience-store industry. "Retailers and technology companies should have been part of the planning and decision-making on chip cards from the start. If they had been, rather than Visa and Mastercard making all the decisions without understanding them fully, we wouldn't be in this mess."

Visa has previously highlighted its discussions with merchants when it announced its decision to extend the deadline for gas station operators in 2016.
Overview
by Sarah Grotta, Director, Debit and Alternative Products
Advisory Service at Mercator Advisory Group
The post Uh Oh. Convenience Store Owners Behind in Updating their Pumps to EMV appeared first on PaymentsJournal.