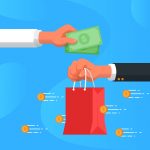 One of the big questions among marketers, product people and others lately is, "How will the COVID-19 pandemic change consumer behavior?" In the payments world that morphs into questions about mobile banking with remote deposit capture, contactless payments and, also, cash.
In a recent article in Retail Trends, Will Covid-19 have a permanent impact on the usage of cash? the author rightfully notes that the demise of cash has long been predicted.
The move away from cash is nothing new of course, and the writing has been on the wall for many years. But the news of its demise has been premature, as cash had been clinging on to its role in commercial life. The question of the day, though, is whether the temporary antipathy inspired by COVID-19 will translate into a longer-term effect, and what that might look like.
Talking about cash, let's get the elephant out of the room. Despite early news reports, the World Health Organization has come out, publicly and emphatically stated that chances of catching coronavirus from cash are very low. Regardless of what the WHO says, there still is an alarming number of Americans that are concerned about cash carrying the virus according to a recent study released by RTi Research. As the graph below shows one-third (32%) of Americans are very or extremely concerned about getting the virus from cash.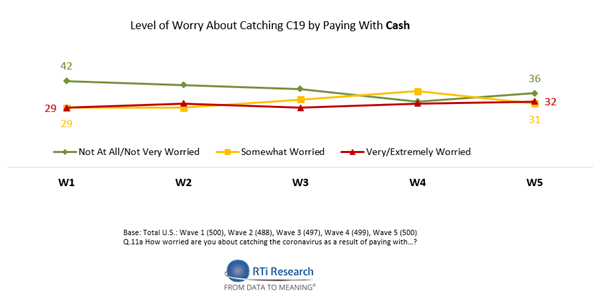 Perhaps as a result of the concerns around cash coupled, with the "shelter in place" life we have all adapted, further research from RTi Research, indicated that consumers are, indeed, using less cash and plan to do so in the future. According to RTi 30% of Americans say they are using less cash than they were two weeks ago and 28% say they are going to use less cash in the next 30 days. While the latter is only speculation, change in cash usage in some way is likely on the horizon.
The pandemic is significantly changing consumer behavior and the old way of doing things is being turned on its head. Because of this, I think it is pretty safe to say that consumers are exploring new, cashless, ways to pay. The unknown at this early stage is which new behaviors consumers will continue to use, and which old behaviors will they revert to. The answer will ultimately lie in the perceived value they get from the alternatives that have chosen (or been forced) to use compared to their pre-COVID-19 behaviors.
If I were asked to bet a meaningful some of money on this question, I say it will be two steps forward one step back. Some will adopt new payment methods long-term and others will revert to the old ways like paying with cash once we come out of this pandemic. Ultimately, the death of cash will come from one thousand knives, the COVID-19 virus is a pretty big knife.
Stay safe.
Overview provided by Peter Reville, Director, Primary Research Services at Mercator Advisory Group.
The post The Fate of Cash in a post-COVID World appeared first on PaymentsJournal.