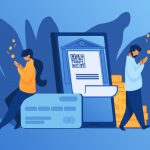 This article discusses a survey done of financial institutions and consumers regarding digital onboarding. FIs are actively trying to execute this, and consumers report that they are frustrated when it doesn't work.
The problem, of course, is determining the applicant's
identity with the appropriate level of certainty. The second problem is
identifying what that appropriate level of certainty is given regulatory mandates:
"A majority of financial executives surveyed recognize that service gap, and are ready to address it in part through biometrics-based security, according to a report sponsored by OneSpan North America Inc., an authentication-software firm. More than 100 industry executives and 300 consumers responded to the 2019-2020 query.
Almost 70 percent of respondents at banks said that creating digital onboarding is an active project for their companies. About 35 percent said these initiatives are their top priority.
There is money behind those words, too. About 41 percent of executives said their budget for digital onboarding would increase this year, by between one percent and 10 percent. Only one percent said that their budget would fall.
It is not hard to understand why.

Almost eight in 10 consumers responding to the survey said they prefer opening a bank account entirely on a phone or other computing device. The efforts of 45 percent were foiled, according to the survey.

Six in 10 bank respondents agreed that a poor experience online is the number one reason that would-be customers abandoned an online application.

Executives found that those people resented that they had to go to a branch to complete their application. Or they did not like how many channel interactions were needed to sign up online. Still others felt the onboarding process was too long."
Overview
by Tim Sloane, VP, Payments Innovation at Mercator
Advisory Group
The post It Isn't Surprising That Digital Onboarding Is a High Priority for FIs or That Identity Is the Key Challenge appeared first on PaymentsJournal.