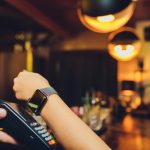 I was recently given an advance copy of a report from our friends RTi Research related to customer perceptions on the way COVID-19 is impacting their lives. This survey was conducted March 20-23, so it is very topical.
While the survey covers a broad range of topics such as their general attitudes to health concerns, shopping, financial services and more, I want to share the slide that jumped out to me when I saw it.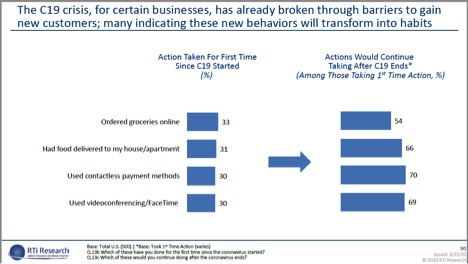 There have be some, myself included, who didn't think that
consumer payment habits would change significantly because of COVID-19. The results from this research show that
consumers might think a little differently.
To set the stage, this report identifies a sizable group of
consumers who are concerned about catching COVID-19 when they pay for things.
About 3 in 10 (29%) are "extremely" or "very worried" about catching it from
cash and 22% are concerned about getting it as a result of paying with a card.
As the graph above demonstrates, 30% of consumers have started using contactless payment methods (think NFC cards, smartphones, and wearables) since COVID-19 started. Furthermore, 70% of those who are new to contactless payments report that they will continue to use this payment method after the pandemic has died down.
Now, it would be foolish to think that everyone who tries contactless will continue to use it (the 70% of the 30% who started using contactless). I do think, however, that it is safe to say that contactless will see a net gain as we come out of this crisis. I wouldn't be surprised if we saw a net gain of 10% new users as a result of their experiences during these troubled times.
Overview by Peter Reville, Director, Primary Research Services at Mercator Advisory Group
The post Contactless and COVID-19 appeared first on PaymentsJournal.